Peptide Synthesizers
Best in class automated peptide synthesizers
Global

Presence

CSBio has been designing and manufacturing fully automated peptide synthesis instruments for over 30 years. Starting with the first automated peptide synthesizer on MS-DOS, CSBio has honed the systems to the flexible, reliable, and cost effective equipment they are today.

CSBio builds peptide synthesizers from research scale to commercial scale manufacturing, and our systems can be found in laboratories and pharmaceutical companies across the globe. CSBio sells more pilot scale and commercial scale peptide synthesizers than any manufacturer in the world.
"
I have been a peptide chemist for some time, I have worked with many different synthesizers, Symphony, Liberty, etc... This CS136 from CSBio is the first one I have really LIKED.
Director Peptide Chemistry
Mid-Size Pharmaceutical Company
"
The CSBio peptide synthesizer that we have is an integral part of our lab. We use it to quickly and efficiently make peptides almost every week! It is super easy to use and very reliable.
PhD Scholar
Top 10 University Globally
"
The instrument is our favorite workhorse and having it standing still for even a short while is not feasible...
Development Scientist
Top 20 Pharmaceutical Company
"
We have a CSBio and CEM peptide synthesizer. When we can't make a peptide on the CEM, we make it on the CSBio system.
Lab Technician
Top 50 University USA
"
One of the features of the CSBio Synthesizer we like most is the way the reaction mixture mixes... Of course, when choosing a vendor for an instrument, the most important thing to consider is the customer service after purchase. CSBio did a wonderful job for us.
Professor
University in US Midwest
"
What impressed me... was [CSBio's] 100% customer-focused attitude with regard to solving problems, answering questions and providing solutions and the quick and elaborate responses provided to my team and me during the equipment specification process. Moreover, I well remember that all our wishes - no matter how special they were - were thoroughly checked... for their feasibility and well-thought-out solutions proposed, which finally materialized in the purchased equipment.
Group Leader
Large Size Peptide CMO
Research Scale Peptide Synthesizers
Our research scale peptide synthesizers can be used for R&D, process development, and small scale manufacturing. With our patented nitrogen bubbling and 180º inversion mixing, we provide complete resin to solvent contact while synthesizing your peptide.
The CSBio II has a 15ml reaction vessel, while the CS136X can be used with reaction vessel sizes ranging from 20ml to 200ml with up to 3 reaction vessels for simultaneous synthesis. Our CS136M, with six peptide parallel synthesis and 180º inversion mixing, can be utilized for R&D and high volume GMP small-scale manufacturing using reaction vessel sizes ranging from 20ml to 100ml.
Learn more about our research scale peptide synthesizers below.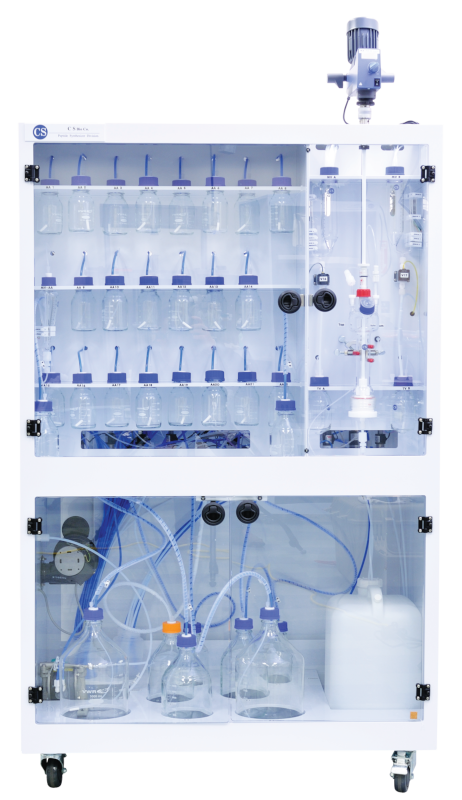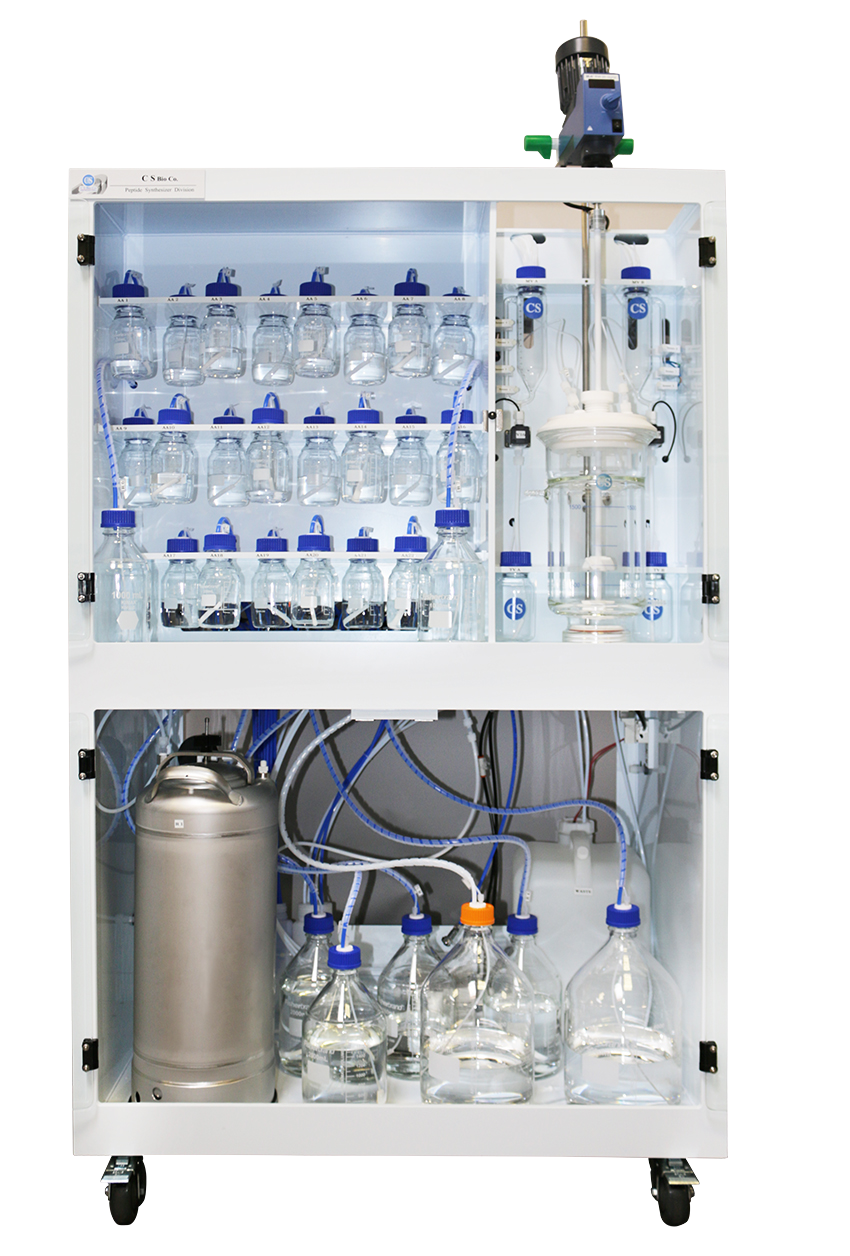 Pilot Scale
Our pilot scale peptide synthesizers are designed for process development, scale up, and single batch clinical and commercial peptide manufacturing. Utilizing overhead stirring with reaction vessel sizes ranging from 200ml to 5L, our pilot scale systems provide consistency in developing processes for commercial manufacturing. All pilot scale peptide synthesizers are built to order and customized to the needs specific to the end user.
Download the pilot scale specification sheet or
Request Quote
Commercial Scale
Our large scale systems are the largest automated peptide synthesizers available worldwide and are the gold standard for commercial scale peptide synthesis. These commercial scale peptide synthesizers are designed and manufactured to customer specifications, with our commercial scale peptide synthesizers having the largest installation base of any manufacturer. With reaction vessels ranging from 5L to 800L, we can meet the needs of any customer requirements for large scale peptide synthesis.
Inquire today, and find out why the best pharmaceutical companies and CDMOs in the world trust CSBio with their commercial scale peptide synthesizer needs.
Download the commercial scale specification sheet or
Request Quote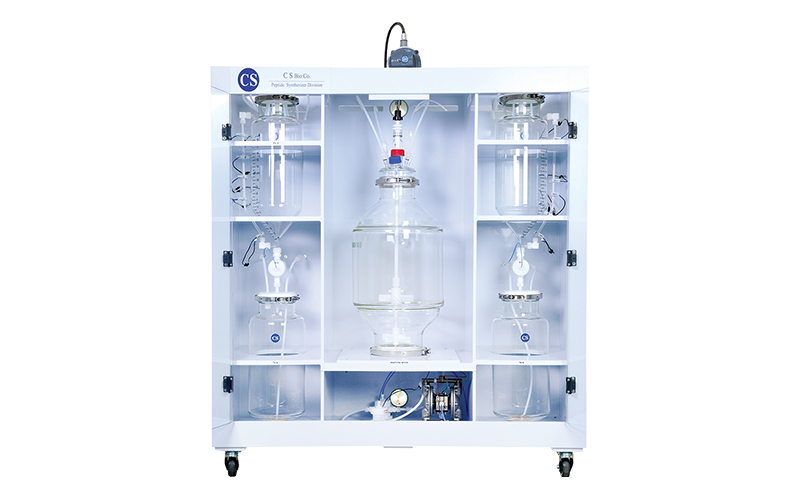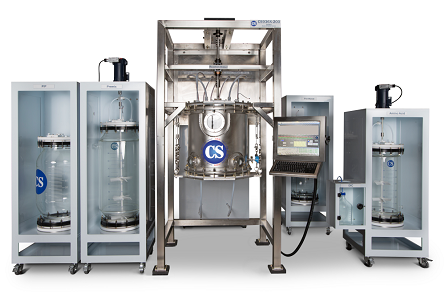 Questions?
Get more information
About Us
CSBio is a leading peptide and instrumentation manufacturing company located in Silicon Valley, California.

CSBio provides nonGMP and cGMP peptides, peptide APIs, research scale peptide synthesizers, commerical scale peptide synthesizers, DNA/RNA oligonucleotide synthesizers, and preparative HPLC purification equipment.
Peptide Contact
20 Kelly Court
Menlo Park, CA 94025
Instrumentation Contact
915 Linda Vista Ave
Mountain View, CA, 94043