We will cover the night shift.
CSBio II
Fully Automated
Peptide Synthesizer
Introducing the CSBio II
The first fully automated peptide synthesizer for every peptide researcher and chemist to have.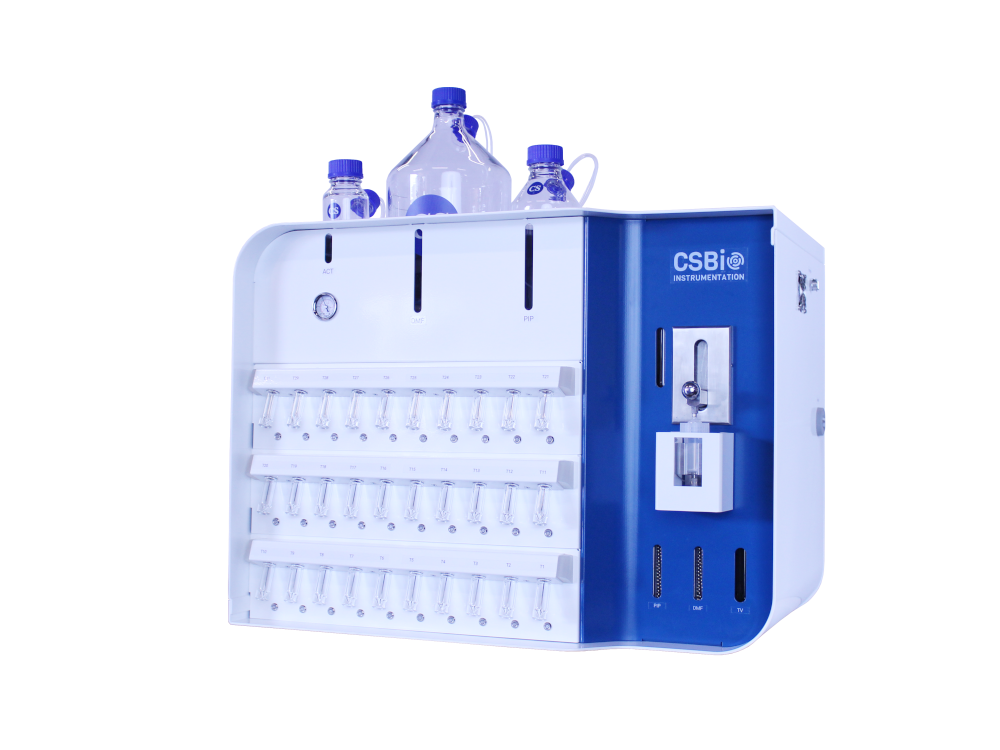 Fits in
any lab space
Compact unit that tucks away on any lab bench, making your peptide sequences day and night.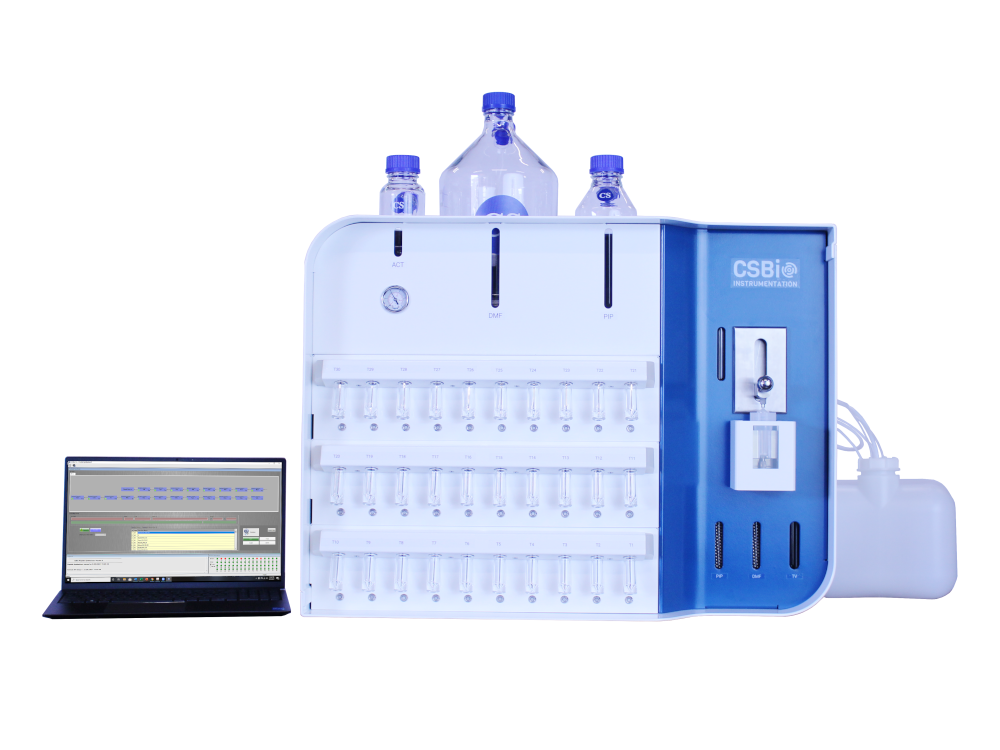 Reliable and
easy to use software
Powered by CSBio's CSPEPM™ software, the CSBio II is built off the most robust peptide synthesis software available on the market.
CSBio II Features
The CSBio II is built to perform any type of peptide synthesis including branched peptides, cyclized peptides, glycopeptides, n-methyl peptides, peptide nucleic acids (PNA), Peptoids, long peptides >100 amino acid, Peptide Thioesters, and Phosphopeptides
System Specs
15ml disposable filtered reaction vessel
Heated RV and pre-heated solvent delivery
Thirty 5ml amino acid positions
4L, 1L, and 250ml solvent reservoirs
---
Solvent Consumption
2.5L of solvent consumption per synthesis for a 20-mer peptide
---
Cycle Time
Complete peptide synthesis of a 20-mer peptide in less than 5 hours
---
Included Accessory Kit
10 pack of disposable reaction vessels
30 amino acid vials with holding rack
Installation Requirements
31" wide x 23" height x 19" deep
120V or 220V, Nitrogen @ 14 psi, Vent
Windows 10 Computer
Warranty
One year full warranty covering parts and labor
About Our Company
CSBio is a leading peptide and instrumentation manufacturing company located on the edge of
Silicon Valley in Menlo Park, California.

For over 25 years, CSBio has been providing high quality custom peptides, cGMP peptides and automated peptide synthesizers to the global pharmaceutical community. Our peptide products and instrumentation can be found in production laboratories and pharmaceutical companies worldwide.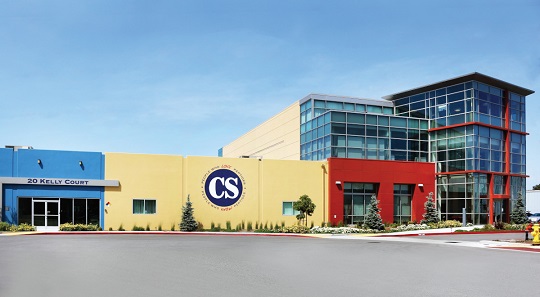 Our state of the art cGMP manufacturing facility and vertically integrated design and manufacturing engineering team provides the best in class products and services in the industry.
cGMP Peptides
Peptide APIs
Non-Clinical Peptides
Peptide Resins and Amino Acids
Research to Commercial Scale Peptide Synthesizers
Pilot and Process Scale DNA Synthesizers
Preparative HPLC Purification Equipment
About Us
CSBio is a leading peptide and instrumentation manufacturing company located in Silicon Valley, California.

CSBio provides nonGMP and cGMP peptides, peptide APIs, research scale peptide synthesizers, commerical scale peptide synthesizers, DNA/RNA oligonucleotide synthesizers, and preparative HPLC purification equipment.
Peptide Contact
20 Kelly Court
Menlo Park, CA 94025
Instrumentation Contact
915 Linda Vista Ave
Mountain View, CA, 94043